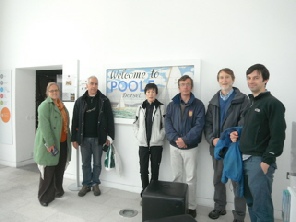 In 2011 Andrew Fielding described the approach the Ecosal-Atlantis team at Bournemouth University were taking to create the UK section of the Traditional Salt Route of the Atlantic.
Claire Randall (left), Poole Museum, Dorset meets with the Lead Partners of Ecosal-Atlantis in 2012.
ECOSAL-ATLANTIS (left to right) Renato Neves, Portugal; Belen Escobar, Spain; Benoit Poitevon, France with Mark Brisbane and Michael Fradley, Bournemouth University
The Approach to the UK Section
of the Atlantic Salt Route

Sel Traditionnel Route de l'Atlantique was proposed as the co-ordinating body for the route.