DIARY for 2019
5-6 May
Salt Sunday
A Celebration of Salt
Salt of the Earth Network
With Bishop Keith Sinclair, Bishop of Birkenhead
12.30 - 5.00 Lion Salt Works, Northwich, Cheshire.
http://www.saltoftheearthnetwork.net/
6-8 June
European Salt Mines Festival
Academy for Economic Science of Bucharest
Bucharest, Romania.
18-20 October
Annual Conference of the Geologists Association
Geological Resources in the North West: past present and future
Manchester University
URL: https://geologistsassociation.org.uk/conferences/
DIARY for 2020
14 February
West Cumbria Archaeology Society
A Reappraisal of Salt Making in Cumbria
Allhallows Centre, Fletchertown
7.30pm £3 non-members
Proposed
October
Salt Making in Scotland
SCAPE Trust
Brora, Sutherland
Our application to the Arts Humanity Research Council for a three year project to create a time line for salt making from 1500 across the whole of the country was not approved. Further applications are pending to other grant giving bodies. The bids are being compiled in partnership with Salford University and includes the Chemistry Department at York University as a partner.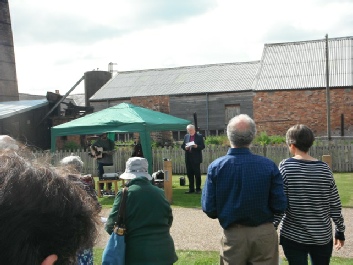 Bishop Keith Sinclair, Bishop of Birkenhead, at the 2019 Salt Sunday event held at the Lion Salt Works Museum, 19 May, 2019.