DIARY for 2023
Monday 14 August 2023
The Salt Canals of Cheshire: from brine pit to salt house
By Andrew Fielding
Zoom talk for the Nantwich Festival of Scince
7pm BST
Free but must register.
Register in advance for this meeting:
https://us06web.zoom.us/meeting/register/tZ0ocO2srTMvE9RDHlbNLa5KjT4za6ca0bpT
Or go to Nantwich Museum events page : https://nantwichmuseum.org.uk/events-2/


Our application to the Arts Humanity Research Council for a three year project to create a time line for salt making from 1500 across the whole of the country was not approved.
Sadly, further applications in partnership with Salford University that included collaboration with the Solway Coast AONB have also been unsuccessful.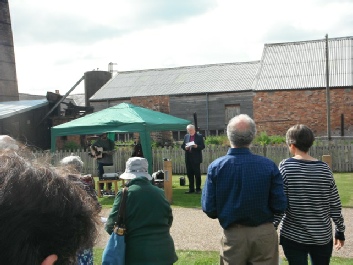 Bishop Keith Sinclair, Bishop of Birkenhead, at the 2019 Salt Sunday event held at the Lion Salt Works Museum, 19 May, 2019.