Le sel: histoire, patrimone et tourisme
Andrew Fielding will give a presentation via Skype to the International Symposium being held in Saline royale d'Arc-et-Senans, France, 5 - 6 April, 2018.
TERRA SALINA
INTERNATIONAL SYMPOSIUM


On Thursday 15 August 2013, Ecosal-UK was incorporated as a not-for-profit company limited by guarantee, registered in England No. 08652326 so that it can take the lead role in studying and promoting the salt heritage of the UK. ECOSAL-UK will be a legacy of the Ecosal-Atlantis project which has also created a heritage route for salt making along the Atlantic coast of Europe. This will be known as Traditional Salt Making - the Atlantic Route.
The First National Organisation in the UK for the Study and Preservation of Historic Salt Making and its Associated Culture
Created through participation in the
EU funded Ecosal-Atlantis project
3

rd

CONGRESS
ANTHROPOLOGY OF SALT
Andrew Fielding of Ecosal-UK has been invited to become a member of the Scientific Committee organising the 3rd Congress for the Anthropology of Salt. The 3rd Congress will be held at Salinas d'Annana, Spain.

NEWCOMEN SOCIETY
NORTHWEST BRANCH
One Day Conference
Salt Making in Cheshire
The Northwest Branch of the Newcomen Society will be holding a one day conference at the Lion Salt Works, Northwich, Cheshire on 20 October, 2018.
Andrew Fielding will give a presentation about the development of white salt production in Cheshire.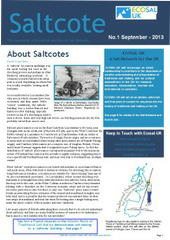 SALTCOTE
The newsletter of Ecosal-UK and the
UK Salt Network