Talks and Demonstration of Salt Making to Solway Coast, Cumbria
September, 2015
Andrew and Annelise Fielding took part in Salt Study Days at Holme Cultram Abbey in September. The Solway Wetlands Landscape Partnership Scheme with Heritage Grampus organised a marsh visit to see sites on the marsh at Newton Arlosh and Saltcotes on the edge of Moricambe Bay, an inlet off the Solway Firth.
The weather was dry and warm allowing a good day to set up a small, metal salt pan and make white salt over a peat fire.
SALT MAKING
DEMONSTRATION
ON SOLWAY COAST
On Thursday 15 August 2013, Ecosal-UK was incorporated as a not-for-profit company limited by guarantee, registered in England No. 08652326 so that it can take the lead role in studying and promoting the salt heritage of the UK. ECOSAL-UK will be a legacy of the Ecosal-Atlantis project which has also created a heritage route for salt making along the Atlantic coast of Europe. This will be known as Traditional Salt Making - the Atlantic Route.
The First National Organisation in the UK for the Study and Preservation of Historic Salt Making and its Associated Culture
Created through participation in the
EU funded Ecosal-Atlantis project
Salt making demonstration and the first public performance of
'Blessing the Brine'
Ecosal-UK gave a demonstration of salt making in a metal pan over a peat fire at Reaseheath College with the Salt of the Earth Network, to celebrate 'Salt Sunday' with the Bishop of Birkenhead.
Ecosal-UK had helped Nantwich Museum set their song 'Blessing the Brine' to music.
The song was performed in public for the first time in over 150 Years.
Photo - Andrew Fielding, Bishop Keith, singers Ailsa and John Booth and Tome Lane.
MEETING
ON THE EAST COAST
East Coast Sites & Researchers
Encouraged to Join
ECOSAL_UK
In October 2015 Andrew and Annelise Fielding travelled to meet up with Tom Lane and Dr Anne Irving of Lincoln Cathedral to discuss how Ecosal-UK could help with research for an HLF funded project to interpret links between salt making and Lincoln Cathedral.
An aspect of the project will involve understanding the process of sand washing and any links there may have been with the French processes at Avranches following the Norman conquest.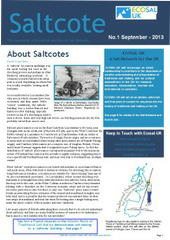 SALTCOTE
The newsletter of Ecosal-UK and the
UK Salt Network